Although we do not sell any replacement parts from the Appliance411 Web site, we thought we could be of some assistance by highlighting the more common and also not so well known replacement parts, tools and accessories that are available elsewhere.
This page may contain affiliate links.
For more information visit our FTC disclosure page
Over the upcoming months, we hope to add links to a wide selection informational pages detailing specific parts or accessories for various appliance types and/or brands.
Please be patient as we try to add them to the site as we envision it will likely be a daunting task.
Specific Showcases:
General Showcase: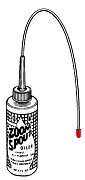 Possibly the most innovative yet simple tool for maintaining many home appliances is the 'Zoom Spout' oiler. The Zoom Spout oiler is approximately 4 oz. of wax free high temperature turbine oil in a handy container with a telescoping spout.
This product is perfect for oiling motor bushings since this wax free oil ensures that bushing pores do not get clogged and contribute to premature component failure. The retractable 8 inch spout helps you get to all those hard to reach places like the oiling ports found on many larger motors and the motor bushings found on smaller motors. Plus afterward the spout retracts to allow it to fit right in your toolbox!