The distinctive Sub Zero refrigerators and freezers have been around for years. With their built-in design they make popular additions to luxury kitchens and homes. With this speciality comes a price tag to match so keeping your purchase in proper working order should be a priority.
Many of the most frequent components that fail can be replaced fairly inexpensively if you know what you're looking for. We will outline some of the more common SubZero refrigerator and freezer parts that may occasionally need to be replaced.

Sub Zero evaporator fan motors usually come in a kit with the mounting bracket. This makes replacing them fairly straight forward as removal from the original brackets are sometimes next to impossible. There is one common one used for freezer section applications and a separate one for the fresh food section. Some models may only use one or the other.

The condenser fan motor is mounted on top of a Sub Zero refrigerator by the compressor. This motor works to remove the heat from the food inside the appliance. When this component fails, it can stop totally, emit a screeching sound and/or just slow causing the refrigerator or freezer section to become warm.
The Sub Zero condenser fan motor is fairly unique as far as domestic refrigerators go due to the pad mount (little feet) used for mounting. Few other brands of home refrigerators use this type of comdenser motor mounting system.
The condenser should also be thoroughly cleaned during service or for that matter, several times a year. Sub Zero condensers are often densely packed and accumulate dust and pet hairs that if not cleaned leads to reduced efficiency, reduced cooling ability and can cause premature failure of the condenser fan motor and possibly the compressor as well.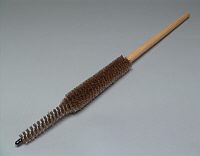 A useful tool to keep on hand is a specially made condenser coil brush. With this you can get to all the nooks and crannies on the condenser to keep it clean, protecting your investment in an expensive refrigerator and any food that might be lost due to component failure.

Many models have also encountered drain pan problems where the drain hole ice over causing leaks and flooding into the fridge or freezer compartment. Sub Zero has engineered an electric heater kit that can be added to the drain to prevent that symptom. There is a separate one for freezer section drain problems and one for refrigerator section drain problems depending on which is needed. Each come with detailed installation instructions.
Door switches also fail with some frequency. There are door activated light switches and fan switches. While a defective light switch is little more than an inconvenience, a failed fan switch will prevent proper cooling and can result in food loss and even damage to the unit's compressor.

Two styles of door switched have been used on Sub Zero products over the years. Older models may use a square or rectangular switch while most newer models use a round, button type switch. There will usually be a separate switch for the light and another one that operates the fan.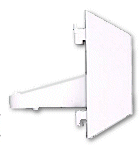 The door shelves also break quite frequently leading to reduced storage space in the refrigerator. These can usually be purchase as complete assemblies but if you don't mind a little work, just the plastic shelf end caps can often be replaced. If you look on the inside of shelf end cap itself, you'll likely see the part number of it. With this number you can order a replacement if available separately.
Sub Zero part numbers originally were in the format of 3-60-076-2 but they have started dropping the dashes to make part numbers consisting of all numerical digits like 3600762. If you are unable to locate a reference to numbers found that contain dashes, try just removing them and using just the numerical digits that remain.
Related Links
Sub Zero condenser fan motor
Sub Zero light switch, round
Sub Zero fan switch, round
Sub Zero light switch, square