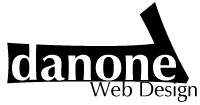 We believe that the most important goals you should have for your Web site are fast loading pages, ease of navigation, browser compatibility and reflecting your company's individuality. You don't need big, flashy, slow-loading pages to be effective and we have found that most Internet surfers prefer not to have them.

With our knowledge and experience we can design a site that meets those guidelines but also reflects a human touch you want your clients and potential customers to see.





2 Web Pages

1 Graphic per page *

1 Logo design

$250.00



3 Web Pages

2 Graphical elements per page *

2 Logo designs

Text based menu bar

$450.00



5 Web Pages

2 Graphical elements per page *

1 Interactive graphical or CGI element

2 Logo designs

Graphic based menu bar
$750.00

For links to some of our previous and on-going works, see our Consulting page.

Please note the above rates for website design are representative of a typical site and will likely not be your final cost. Site customization to meet your requirements often results in higher or sometimes lower prices. * Graphics (store, product, staff photo, etc.) to be customer supplied.



Home - Info - Consulting - Design - Interactive - Help