by Productopia.com
This page may contain affiliate links.
For more information visit our FTC disclosure page
Get self-cleaning. With a few exceptions, all ovens are now available in self-cleaning models. The difference in price is often less than $100. It's worth it not to have to suck up oven cleaner fumes. Self-cleaning ovens are also insulated better making them more energy efficient while cooking.
Check it out. Open the door and shut it a few times. It should feel smooth and not slam or squeak. Look for oven racks with substantial wires and heavy cross-bars that are able to hold large roasts or turkeys without bending. Make sure the light and window really do help you see what you're cooking.
Get true convection. Some ovens say they are convection, but to reap the benefits of convection (faster cook times, even cooking, less energy used) make sure it's true convection. The key to true convection is a third element that is hidden behind a baffle outside the oven chamber. The element preheats the air, which is then distributed evenly throughout the oven by a fan.
Consider child safety. Safety latches are particularly important if you have children in the kitchen. Some models have a safety deactivation mode to prevent children from using the oven. Good self-cleaning systems automatically lock the oven door until the cycle has finished and the oven has cooled down.
Copyright © 1999-2000, Productopia, Inc. All rights reserved.
Reprinted with permission.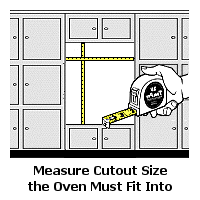 Cutout measurements.
Besides the visible dimensions of the oven, the 'cutout' space it fits into is important unless you plan on kitchen remodeling to accept the replacement. Models of the same or similar exterior size could require significantly different space behind the scenes.

Disclaimer: The staff of Appliance411.com does not necessarily agree with the opinions expressed by Productopia.com. The information and links are presented for reference only.