When a gas range's oven is not working I frequently hear that question. The first thing that is needed is to be sure your model actually has a "pilot" which needs lighting.




Understanding Gas Oven Ignition Systems




Most gas ranges currently available employ one of 3 basic gas ignition systems; pilot ignition, hot surface ignition system (which uses a 'glow bar' or 'glow coil' - aka an "ignitor") and a spark ignition system. The latter two being referred to as "electronic ignition" systems as they use electricity in one form or another to operate the oven heating system. Only the pilot ignition system has an actual "pilot" (which is a small but real "flame") which might need manual lighting.

If the surface burners of a range are a spark ignition type, the oven IS one of the possible kinds of electronic ignition systems and thus will not usually have a "pilot" which needs lighting. Be aware though that just because the surface burners might light via a spark doesn't necessarily mean the oven uses the spark type ignition system too.

There is one older style of electronic ignition system which does also use an oven pilot but it is very rare and such a system hasn't been used in oven models since the early to mid 70's. It is the 'constant pilot' *electronic ignition* system.
Making Observations

The oven burner's operation will usually need to be directly observed while in operation as the first step to troubleshooting problems.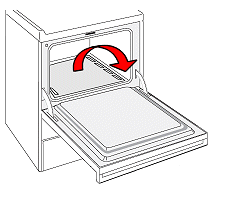 The oven bake burner and ignition components are located beneath the oven cavity. In most cases the oven bottom panel can be removed for access (check your owner's manual) but on some models the oven burner has to be accessed from below in the warming or broiler drawer area. If accessing from the top, a 'flame spreader' (flat metal plate) above the burner may also need to be removed to see the burner itself.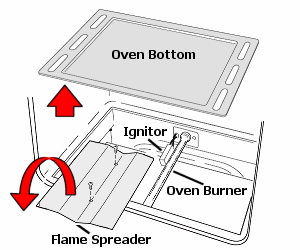 Some range models may have an additional broil burner located at the top of the oven cavity which may be referred to as a 'waist high' broil. If not, broiling usually takes place in the drawer area below the oven, which uses the same bake burner for the broil function.
Ignition System Type Links
Ignition System Types: