I have heard a number of complaints recently that the chemicals (specificaly chloramine - a mixture of chlorine and ammonia) used in some water treatment facilities are causing the material the molded plastic refrigerator water reservoirs are made from to break down resulting in white or whitish particles appearing as flakes, flecks or specs in the dispensed chilled water. In that case the water filter is not usually the cause, instead replacing of the chilled water reservoir itself may be necessary.
Most manufacturers originally used a molded plastic water reservoir which is what seems to be effected and breaking down. Many fridge manufacturers are now selling a coil of plastic tubing (like that used in the rest of the refrigerator's water system) in place of a molded plastic reservoir. You can see a comparison of the two in the following illustration and see some of the replacement kits that are available at the links below.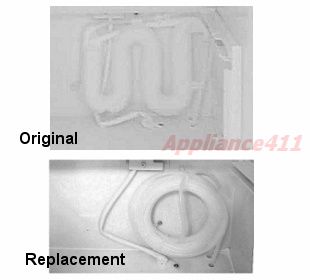 Even those makes/models that still have the original molded plastic type reservoirs being supplied as a replacement may be able to be updated using one of the 'tubing kits' along with the attachment fittings usually supplied with them.

Frigidaire brands include Frigidaire, White Westinghouse, Tappan, Gibson, Gallery, Kelvinator and some Kenmore models.

Whirlpool brands include Whirlpool, Roper, KitchenAid, Estate, Whirlpool and many Kenmore models.

Maytag brands include Maytag, Magic Chef, Jenn Air, Hardwick and Admiral.

GE brands include RCA, Profile, Moffat, McClary, Hotpoint, General Electric and Beau*Mark.