Most modern domestic gas ranges do not give the kind of flame control that older ranges had. With electronic ignition models, a certain amount of gas has to be let out to ensure that it will light immediately. Allowing users to reduce the flow rate could pose a dangerous condition (flame outages).
I suggest you purchase a 'simmer plate' or 'heat diffuser' for use when needed. They can look like two perforated pie plates inverted on each other to form a hollow center as illustrated below.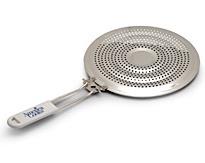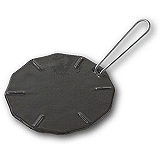 There are also several other styles of heat diffusers available (see the links below), made of from cast iron to stainless steel. For the aspiring gourmet chef, a heavy metal simmer plate may be a better choice for more controlled heating.
If you want a greater degree of flame control, you'd probably have to purchase a high end or commercial type gas range. They usually have more room beneath the cooktop so the burner can be placed further from the cooking surface, allowing for lower cooking temperatures or one with a dedicated simmer burner. These models may also feature a specialized 'simmer burner' which only generates 300-600 BTUs of heat as compared to 9,000 BTUs or more for regular gas burners!