For cooking appliances, you might want to consider looking into a separate wall oven and cooktop.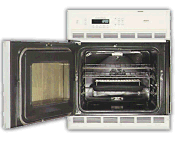 Frigidaire makes a 27" electric wall oven on which the door swings opens sideways. Installation of such an oven design would allow someone in a wheel chair to get closer when inserting and removing items without them having to dodge the oven door. It can be mounted at a height that is appropriate or easiest access.
You may also be able to find some European made ovens that have this design of door.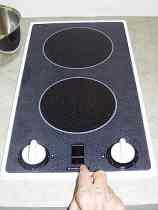 For a stove top you may be able to find a unit that has only 2 burners. When mounted properly, it should allow someone with limited reach to get to both the burners and controls.
One TV show illustrated installing a 2 burner electric induction element cooktop in a drawer that could be pushed out of the way when not in use. The drawer was at such a height as to make both the burners and controls within easy reach of a wheel chair bound person.
An induction element cooktop would likely be the only safe product for this application because the cooking surface remains much cooler to the touch after use than regular surfaces do, thus reducing any fire hazard.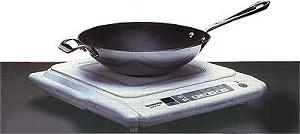 Countertop Cooking Products
For a refrigerator, you could consider a compact model that can be mounted at an accessible height.

There are also numerous drawer refrigerator models available. These may be freestanding or able to be built right into cabinets to keep floor space clear.
Such a design is ergonomically superior, incorporating the familiar kitchen sliding drawer concept, giving the user easier access, improved visibility and less movements to open, load and close.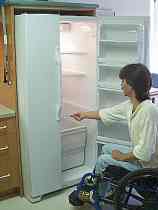 Alternately, a side by side model will usually allow easier access to both the refrigerator and the freezer sections. The narrower doors will also not get in the way as much.
If considering a side by side, look for a built-in or 'counter depth' model. These designs are usually shallower than regular models, allowing easier reach of items at the back of shelves. Also, try to find a model that has slide out shelves.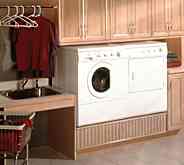 For a washer a front loading model with up-front controls is a good choice. Optionally, mounting it on a raised platform should provide greater accessibility. You could also consider a combination washer/dryer to eliminate the need to move wet laundry from one appliance to the other.
See 'Helpful Installation Tips' for some things to watch out for when installing laundry equipment.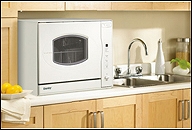 For a dishwasher, you could purchase a small counter top model that can be mounted at any accessible height. Another option could be to install a dishwasher on a raised platform (example here) to increase accessibility.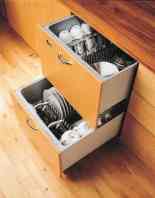 A unique dishwasher design that might also be able to be utilized is a DishDrawer (pictured). It can be mounted in locations like regular kitchen cabinet drawers for ease of loading and unloading.