First off, before attempting to screw into a granite, Corian or Ceran countertop, check with the counter top supplier and see if it is recommended or not.
It may be possible to attach a wooden strip across the top of the dishwasher's enclosure, mounting it to the cabinets on either side of the dishwasher. The dishwasher should then be able to be screwed to that, avoiding contact with the counter top material altogether.
It may also be possible to attach a wooden strip directly to the counter top material itself, using an approved adhesive. You could then screw the dishwasher to the attached wooden strip without effecting the counter top material itself.
I have read that Miele (an European appliance manufacturer) makes an accessory available for their built in models for this purpose. The 3.341.080 GBW Fixing Angle may be able to be used for other makes as well to install dishwasher under Granite, Corian or Ceran counter tops. Check with a local Miele dealer.
Some dishwasher manufacturers may have alternate mounting kits available to secure their product differently than the standard way. That will depend on the brand and model of dishwasher in question as to what type (if any) of alternate mounting may be appropriate for it.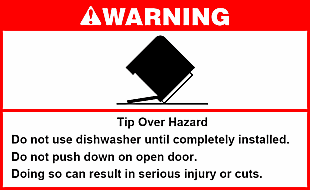 Alternately, since the screws are meant to prevent the dishwasher from tipping forward when the door is opened, you may be able to utilize kitchen stove 'anti-tip' brackets (check local building codes) like those that are being supplied with current model ranges (see image below). These brackets screw to the floor or rear wall behind the appliance and trap the rear leveling leg, preventing the appliance from tipping.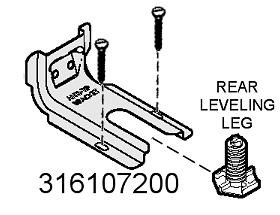 An additional stop mounted to the floor in front of the front legs may also be advised to stop the dishwasher from being pulled out of its enclosure when the door is opened roughly.
Providing your local building codes allow this solution, it may be an inexpensive and time saving alternative.
Similar anti-tip brackets are made available by Frigidaire (# 316107200), Maytag/Jenn Air (# 12400045) and Amana (# 31970801 floor mount only) and should be available through most appliance parts suppliers.
One final note: However you decide to fasten the dishwasher, make sure it can be removed easily afterward for routine maintenance and service. Failing to make the unit accessible may result in requiring cabinet work to be done in the future, adding to any repair expense you may face.