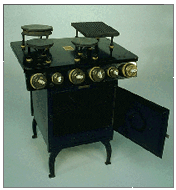 White-Westinghouse traces its heritage back to 1914, when the Copeman Electric Stove Company began producing the first electric ranges. Westinghouse Electric Manufacturing Company acquired Copeman in 1917 and moved the manufacturing operation to Mansfield, Ohio.
Westinghouse soon produced a fully automatic electric range built of cast iron in a solid oak frame which weighed in at 725 pounds and sold for $325. Soon lighter stove models were brought to market and as more homes gained electricity during the Roaring Twenties, stoves and ovens became common household items.
By the 1930's Westinghouse had developed refrigerators with completely sealed refrigeration units. Portable dishwashers - an industry first - and room air conditioners were added in the 1930's. In 1939, Westinghouse introduced the first fully automatic washer that did not have to be bolted to the floor. The company also developed and marketed small appliances such as coffee makers and irons. Industry first "Frost Free" refrigerators were added in the 1950's.
In 1975, the Westinghouse major appliance business was acquired by White Consolidated Industries and the product name was changed to White-Westinghouse. When AB Electrolux acquired WCI in 1986, White-Westinghouse became part of the Global Appliance Company.
Today, White-Westinghouse offers a complete line of full featured, value priced major home appliances. The name again appears on small appliances and electronics through special licensing arrangements.